Mrs S supported us with 3 tickets

Mrs S supported us with 1 ticket

Mrs E supported us with 1 ticket

Mrs S supported us with 2 tickets

Mrs S supported us with 2 tickets

Mrs P supported us with 6 tickets
---
0d 22h 23m

22 January 2022
---
Winner! Mrs W (NORTHAMPTON)

Won £25.00!

Winner! Mrs L (NORTHAMPTON)

Won 3 extra tickets!

Winner! Mrs S (CB24 3DZ)

Won 3 extra tickets!

Winner! Mrs I (WELLINGBOROUGH)

Won 3 extra tickets!

Winner! Mr T (NORTHAMPTON)

Won 3 extra tickets!

Winner! Mrs C (Northampton)

Won 3 extra tickets!

Winner! Mr G (NORTHAMPTON)

Won 3 extra tickets!

Winner! Mr S (NORTHAMPTON)

Won 3 extra tickets!

Winner! Mrs W (Northampton)

Won 3 extra tickets!

Winner! Mrs P (NORTHAMPTON)

Won 3 extra tickets!

Winner! Mrs O (NORTHAMPTON)

Won 3 extra tickets!
About us
EVE has worked with women and their families who are survivors of domestic abuse for over 35 years. In this time we have developed and deliver a range of services:
Refuge: Our refuge can accommodate 13 families/single women in well maintained and appropriate accommodation, providing an equal service to all victims regardless of ethnicity, religion, sexual orientation or disability. There is a separate access ground floor flat for those with accessibility needs.
Support services are free, but there is a charge for rent. Women may be eligible for Housing Benefit and we will give help in applying. There is also a small weekly charge which covers utilities.
The Restored Programme: This innovative programme pulls together the knowledge, skills and experience we have developed over the last 35 years and is holistic, needs-led and highly individualised for survivors of domestic abuse who are looking for a change. It is delivered to both residential and community clients and mitigates risks while meeting the needs of our clients, helping them to break ongoing cycles of abusive relationships and offer them the individual support they need to rebuild their lives.
Women work towards five outcomes: Physical Survival, Safety and Security, Social Needs and Belonging, Self Worth and Esteem and Meaning and Purpose. Each outcome is measured through an individual development plan and uses the cycle of change, motivational interviewing techniques and other therapeutic and educational interventions and activities to engage and support women to achieve their goals.
Restored is also used to support women and families who are partners of men going through our Evolve programme.
Group work: We pioneered group work specifically designed to assist in changing thinking and behaviours that enable women and children to move out of victim status and develop confidence and wellbeing.
We offer a range of group work programmes that are designed to meet the needs of women, children and families who have been affected by domestic abuse.
Children's Services: Our experienced Children's Services team understand the impact of domestic violence and abuse on children and support them in dealing with their own trauma. The Children and Young People's Practitioners are child-focused, making close links with families, offering parenting support and therapeutic sessions. They liaise with other agency staff including schools, nurseries and health visitors and are able to access additional support and resources as required.
Community services: The Restored Programme is offered to community clients who are living in their own homes in and around Northampton.
Evolve: Enables men who have used domestic violence and abuse in relationships to engage in changing their unacceptable behaviour. The emphasis is on safety and making a more constructive contribution to relationships in both family and community.
Training services: We offer training in a range of topics for professionals and community organisations working with victims and survivors of domestic abuse. Please see our website for more information.
We need your help so we can continue to offer and even expand our service!
Thank you for your support and good luck!
Yours sincerely,
Nicky
Help us share our cause on social media
How the lottery works
That's right, unlike many other lotteries, our lottery tickets are only £1 per week.
50% to your chosen cause and 10% to other causes in Northampton.
Match all 6 numbers and you win the JACKPOT!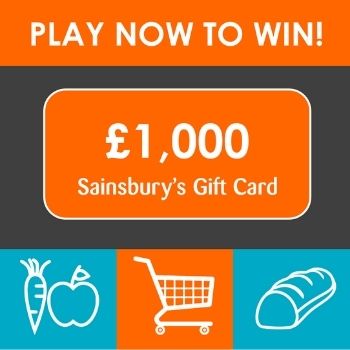 Win A £1,000 Sainsbury's Gift Voucher To Kick Off The New Year!
To kick off 2022, we're giving you the amazing chance to win a £1,000 Sainsbury's Gift Voucher! From Tu clothing and Habitat homewares to groceries, there's something for everyone.
Support your favourite cause, and have a chance to win this fantastic prize - it really is a win-win situation!